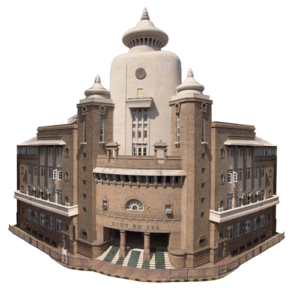 Bharatiya Vidya Bhavan was founded in 1938 by the illustrious philosopher – statesman, thinker, writer and father of the Indian Cultural Renaissance Dr. Kanhaiyalal Maneklal Munshi, with the blessings of Mahatma Gandhi, the father of the Nation. The founding of Bhavan was based on the preservation and propagation of Bharatiya Sanskriti (Indian Culture).
During the last seven decades of its existence Bhavan has blossomed into ever growing, voluntary apolitical national movement with an international outlook devoted to life, literature and culture. The Bhavan firmly believes that revitalizing ancient values and reintegrating them to suit the changing needs of the modern times alone will give people strength to assimilate what is good in the new, without being swept away from their traditional moorings.
Bhavan's multifarious activities in the field of culture, education, national integration and communal harmony has been recognized by the Government of India by way of awards. Bhavan has received Rajiv Gandhi Award for National Integration (1992), Communal Harmony Award (1999), International Gandhi Peace Prize 2002 by the Government of India, Swami Pranavananda Peace Award 2015 by Gandhi Peace Foundation, Delhi. Educational institution of national eminence under section 80(G)(2)(iiif) of Income Tax Act, all donations to the Bhavan will have 100% tax rebate.