About Bhavan's Jaipur Kendra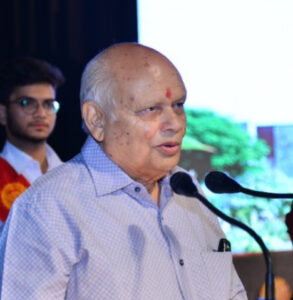 The Jaipur Kendra of Bharatiya Vidya Bhavan was established way back in 1978 and had Bhavan's College of Communication and Management running post graduate diploma programme since 1980, in 1985 Bhavan's Jaipur Kendra moved to its present sprawling campus. Over the years the Bhavan's Jaipur Kendra has flourished under the dynamic Chairmanship of Shri V.C. Surana. It now boasts of two well established Schools, Maharana Pratap Auditorium, Gandhi institute of computer education providing FREE computer education to the needy, Sports complex, International Swimming pool, "Pustak Bharati" a book store for Bhavan's Publications and Suruchi Kendra, the cultural centre established in 2018.
"Indian culture is a living force. It absorbs alien elements when necessary and reorients them into a new pattern of homogeneous richness. Thus, it becomes a tremendous force of power and beauty which has made us what we are in the world and will make us what we want to be in the world of tomorrow."- These are the words of wisdom of Dr. K.M. Munshi, the founder of this institution known as Bharatiya Vidya Bhavan, a unique institution for education and culture.
The Bhavan's Jaipur Kendra is run by an advisory committee consisting of the Chairman, Director and members of the advisory committee.
Presently Shri V.C. Surana is the Chairman of Bhavan's Jaipur Kendra.